Sri Sowbarnikaa Wedding Decorators in Coimbatore – Make Your Big Day Unforgettable!
Sri Sowbarnikaa Decorator is the premiere wedding planners in Coimbatore, offering unparalleled services for weddings and related occasions. Our team of skilled professionals has years of experience in creating visions from ideas to reality. We are the leading wedding planners in Coimbatore, providing customised solutions for every occasion. From grand themes to intimate settings, trust us to create your celebrations a memorable experience. Contact us today to plan the perfect wedding and create your big day unforgettable.
Our team of experienced marriage planners in Coimbatore are dedicated to providing you with a unique and unforgettable experience. With a wide range of decorations to choose from, we will assist you create the perfect atmosphere for your big day. From selecting elegant floral displays and unique lighting designs, to crafting beautiful backdrops, every detail will be taken care of to ensure your wedding is an event to remember.
Our team of expert wedding Reception planners in Coimbatore understands how important it is not only to plan but also execute the highest standards at any event; especially when it comes to planning an Indian marriage which requires extensive preparation- right down to the smallest details like choosing a colour palette or having multiple events planned out with utmost perfection!
As one stop solution, our talented staff makes sure all prerequisites like selecting venues, music arrangement etc., are addressed meticulously so you can simply sit back and relax while we create things happen just as envisioned! With Sri Sowbharnika Decorator Coimbatore's leading Wedding Reception Planners – you can trust us completely.
Experience Sri Sowbarnikaa's Professional Wedding Planning Services
Sri Sowbarnikaa Event Planners & Decorators is a premier wedding planning and event management company in Coimbatore. Our team of experienced professionals provide creative designs, expert consultation and quality materials to make your wedding day truly special. As Event planners, we are dedicated to providing top–level customer service with attention to every detail to ensure your dream marriage comes to life exactly as you envision it. Let us help you create an unforgettable experience on your special day with our expert event planners!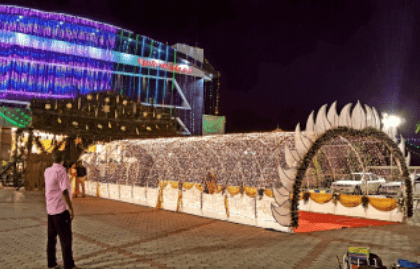 Professional entrance decorator offering stunning designs, polished finishes and affordable prices. Make your home or business a show–stopper with custom entrances! Our experienced event planners will assist you create the perfect entrance for your space.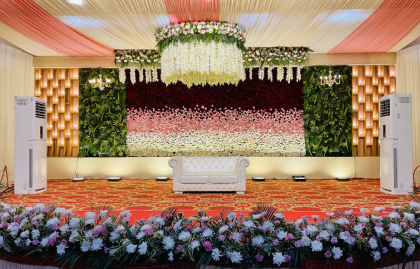 Transform your marriage into a dream–like celebration with our stunning stage decorations and professional marriage event planners. Our experienced team of decorators can create the perfect atmosphere for your big day and ensure that your marriage is a truly memorable celebration.
Manavarai adornment – Professional expert marriage planners providing grand event decorations with unique designs, quality materials & best customer care guaranteed!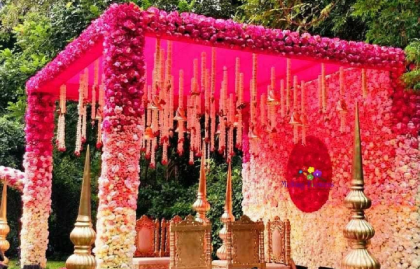 Professional flower design services for weddings, corporate events and other special occasions. Expert team of highly experienced event planners and decorators to create beautiful & unique designs.
Transform your home with beautiful modern décor from Sri Sowbarnikaa event planner Coimbatore. Professional quality at affordable prices!
Sri Sowbarnikaa event planner Coimbatore provide professional services for an unforgettable marriage experience. Their personalized approach ensures your dreams become a reality.
Experience professional and luxurious wedding planning with Sri Sowbarnikaa event planner Coimbatore, one of the most trusted names for spectacular events!
Transform Your Big Day Into the Most Majestic Moment with Sri Sowbarnikaa Wedding Decorators Coimbatore!